Nickey Kehoe
INNOVATIVE INTERIOR DESIGN
ABOUT TODD & AMY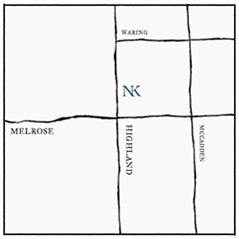 Nickey · Kehoe specializes in residential & commercial interior design, including bi-coastal residences, hotels and restaurants.
Todd Nickey and Amy Kehoe merged their design backgrounds in early 2004 forming the partnership of Nickey · Kehoe, Inc. This duo splits their time and energy between running a design firm focused on residential and commercial projects and the retail shop which houses their vintage finds, private label products and a selection of handpicked goods from around the world.

Nickey's background is steeped in retail design, while Kehoe stems from the hospitality design world. Together they have completed numerous residential projects from coast to coast as well as major hotel projects in Southern California. Their unique blend of old world patina and modern simplicity keeps their aesthetic fresh and timeless.