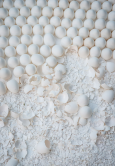 Break the Mold, a collaboration celebrating bravery in design, is the fourth exhibition in our Changing the Conversation series of collaborative window installations, and the first to involve more than one member of the art and design community.

Jon Call of Mr Call Design is both the past and the future of interior design; he is equally comfortable sketching plans for custom casegoods as he is posting fabric options for clients on Pinterest. A young designer with a savvy clientele, Call is embraced by the downtown (and Brooklyn) crowd, but his is not a sleek loft look. Rather, Call achieves a tailored take on classic style that is American in the broad, free-spirited sense of the word. It's a palette that includes everything from Federal pieces to Mad Men Midcentury to clever details that conjure a wry smile. Above all, Call aims to give his clients spaces that balance comfort with "the luxury of a room with personality."

I have been thrilled to work with Jeannene and Woven Accents. They offer a vast amount of knowledge and are helpful and always easy to work with. They are a go to source for me when designing a clients home. I always know they will have a beautiful selection of modern and one-of-a-kind rugs.
"Why fit in when you were born to stand out" - Dr. Seuss
At Woven Accents, we endeavor to work with the risk takers, the valiant architects, designers and artists who strive to create unique projects and artful design. From the showroom space we created on Melrose Ave to the new rug designs we are developing, it is clear that we are committed to authentic innovation. Known for our ability to source unique vintage and antique rugs, we believe that we can change the way people think about, buy and design around a rug.
We see our gallery space as canvas, an opportunity to create something artful in collaboration with local designers and artists. Our goal is to both showcase our collections and construct environments that are smart, surprising, and sophisticated. We strive to engage our audience in a way that makes them feel connected to something special, original, and rare and keeps them coming back to be inspired.
For us, this story telling process is a great opportunity to engage with the community - to contribute, to give something back. Our brand represents a mind-set, a belief system, a way of life. We believe that by infusing everything we do with authentic, positive and passionate energy, we can somehow make the world a better place -because we believe in the power of creativity. We believein making ART.
read more
Call Us To Schedule A Private Presentation 310-652-6520 or 800-222-RUGS