It's not an easy task, like folding socks or scooping out a bowl of ice cream. Breaking through, changing the conversation, continuing on a course through the ups and downs, the countless struggles to arrive at something innovative, artful, new – it takes courage. It takes dedication of the heart.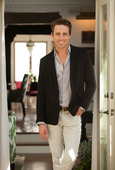 Los Angeles based designer Ryan White, is on the rise to becoming one of today's most sought after designers. His firm, RWD (Ryan White Designs), is a full-service interior design firm, whose one-of-a-kind interiors have captivated the design community, and caught the attention of many feature publications.
White's style combines understated clean lines with a modern sensibility. Allowing every living space to be rich yet comfortable, his ability to combine bold patterns with a contemporary feel, infused with an impeccable sense of color, has established his signature style. From designing hand made pieces of furniture, fabric selections, stone work, even down to your bath towels, RWD will deliver on his clients' vision and imagination.
"Woven Accents has an absolutely AMAZING inventory!!! Some of the most beautiful and unusual rugs I have ever seen. The customer service is amazing. They were very accommodating and kind... they let us memo several rugs for a few days each before we made our final purchase. After such a lovely experience, I will never shop anywhere else for rugs again!"
"Why fit in when you were born to stand out" - Dr. Seuss
At Woven Accents, we endeavor to work with the risk takers, the valiant architects, designers and artists who strive to create unique projects and artful design. From the showroom space we created on Melrose Ave to the new rug designs we are developing, it is clear that we are committed to authentic innovation. Known for our ability to source unique vintage and antique rugs, we believe that we can change the way people think about, buy and design around a rug.
We see our gallery space as canvas, an opportunity to create something artful in collaboration with local designers and artists. Our goal is to both showcase our collections and construct environments that are smart, surprising, and sophisticated. We strive to engage our audience in a way that makes them feel connected to something special, original, and rare and keeps them coming back to be inspired.
For us, this story telling process is a great opportunity toengage with the community - to contribute, to give something back. Our brand represents a mind-set, a belief system, a way of life. We believe that by infusing everything we do with authentic, positive and passionate energy, we can somehow make the world a better place -because we believe in the power of creativity. We believein making ART.
read more
Call Us To Schedule A Private Presentation 310-652-6520 or 800-222-RUGS